Todd McShay's 2011 Mock Draft v1.0
Updated: January 24, 2011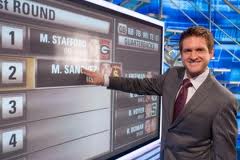 Here we go again! Just a few days ago I posted Mel Kipers mock draft, and now I have Todd McShay's.  As usual I will chime in with my two cents on each pick.  McShay and Kiper usually widely differ. Kind of makes you wonder how both can be "the expert" if they never agree?
Nevermind… let's get on with it!
1. Carolina Panthers: DaQuan Bowers, DE, Clemson
Bowers…. Fairley. Fairley…. Bowers. Once again the two experts don't agree! I personally think the Panthers settle on Fairley. The have a lot of young DE's already and Charles Johnson racked up 11 sacks just last year from the other DE spot.
2. Denver Broncos: Nick Fairley, DT, Auburn Tigers
I have NO PROBLEMS with this pick for my Broncos. Thank goodness it isn't a CB.  We have never had a young elite defensive lineman, and I think that getting Fairley to push the pocket will help Champ Bailey (if he stays) return to All-Pro form.
3. Buffalo Bills: Blaine Gabbert, QB, Missouri
I actually think that the Bills will fall in love with Cam Newton.  Or they may be stubborn and stick with Fitzpatrick and take AJ Green, Marcel Dareus, or Robert Quinn instead.  The Bills are a hard team to project, but I just don't see Gabbert going to them.
4. Cincinnati Bengals: A.J. Green, WR, Georgia
If Palmer stays this is a good pick.  Simpson and Green is a young duo that will excite the fans again up in Cincy.  But if Palmer's hand is forced and he really goes to Hattiesburg with Brett Favre do you think they still take a WR? Highly unlikely.  Plus Marvin Lewis has this love-hate thing with Ocho and never seems to really want to let him go, despite what he says in public.
5. Arizona Cardinals: Patrick Peterson, CB, LSU
As I said before, I actually expect Prince Amukamara to be the first CB taken (and a lot of draft pundits to lose their minds on twitter).  I think this is a solid pick though.  The Cards could use a young DB and there will be enough veteran QBs on the market to band-aid their problems there.
The rest of McShay's picks are available on ESPN insiders, or if you are proficient in Google-Fu you can probably find them online elsewhere.