Terrelle Pryor has Injured Ligaments in His Foot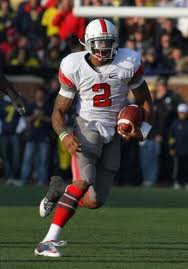 If you watched the post game interviews after the Sugar Bowl you probably could tell that Terrelle Pryor was in a lot of pain.  He was noticeably limping and could not walk without the help of two teammates.  When asked what was wrong with him all Pryor could answer was "I don't know, something with my foot."  He then quickly ended the interview, wincing in pain.
We know know that he has injured ligaments on his foot to the point where he will need surgical repair.  It is unknown whether the injury is a full tear of the ligament but it is clear that Terrelle needs surgery to repair the damage that was done on his foot in the Sugar Bowl.  Apparently the damage came on a QB sneak, which is always the risk coaches run when they run that play.
According to the Columbus Dispatch, Pryor will undergo surgery Friday to "stabilize some ligaments" in the foot area.  His availability for spring practice is uncertain at this time, although the Buckeyes will likely use a chunk of those sessions to begin prepping another QB to start the season
(Source: CollegeFootballTalk ):
If Pryor was looking to make a mad dash to the NFL, those plans have to be a "no go" as of now.  He is going to have to rehab his foot and get ready to play after his 5 game suspension is over.  In that time, it is believed that incoming true freshman Braxton Miller would get a shot to lead the Buckeyes.