Scouting: Cameron Heyward in Sugar Bowl
Note: If you are visiting from BlackSportsOnline or Twitter please take a moment to subscribe to the RSS feed and check out our NFL Draft community.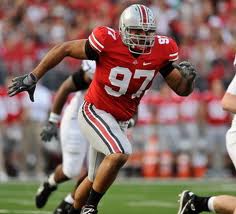 If there was anyone questioning whether or not Cameron Heyward is a first round selection, last nights showing in the Sugar Bowl may have shut them up.
Playing with an arm injury and a lower leg injury, Cameron Heyward continued to dominated Arkansas' offensive line, play-after-play, series-after-series.  Arkansas started the game letting their top offensive tackle Demarcus Love go one on one with Heyward but it wasn't enough.  Cameron's speed and power was just too much for Love, as well as many of the other schemes Arkansas tried to stop him.
That's what makes Heyward's style of play so attractive to NFL teams.  His "bull in a china shop" style of rushing fits right in with the pros.  One could argue that his play in the Sugar Bowl is the reason that Ohio State won the game.  Ryan Mallett clearly was pressured early and often and forced into bad throws often.
If I were to compare Heyward's game to an active NFL player I would compare him to Jared Odrick of the Miami Dolphins.  Both players are stout rushers who rely more on power at the point of attack and a constant onslaught of jabs to get through slower offensive tackles.  I think Odrick plays with much more of a "mean streak" than Heyward but other than that their game is very similar as pass rushers.
Heyward should go in the middle to end of round one in the draft.  If somehow he slides into round two expect to see a team trade up and snatch him like the last Nintendo Ds Lite in Toys R Us on Christmas Eve.