Scouting: Andrew Luck in the Orange Bowl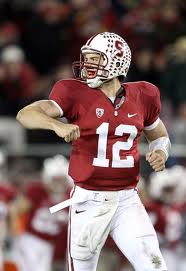 Andrew Luck is clearly the best prospect in the nation.
In the season's biggest game, the Orange Bowl nonetheless, Andrew Luck cemented his stake as the number one prospect in the 2011 draft.  Luck was almost unstoppable going for 187 yards and 4 touchdowns on a highly praised Virgina Tech defense.  Luck showed all of the characteristics of his game that have NFL teams drooling.
Luck's pinpoint accuracy on short three step drops and longer downfield throws was something to be seen.  In a lot of ways he resembled Sam Bradford of last year's Oklahoma Sooners who was the #1 pick in the 2010 draft.  The arm strength and accuracy is definitely there folks.  This is no hype.
As far as 'intangibles' go Luck is very similar to Matt Ryan. You aren't going to see Luck running around screaming at his teammates often, that just isn't his style.  He is a very confident and calculated player in the huddle just like Matty Ice.  Even after the game Luck handled himself very calm and collected making sure not to tip his hand as to whether he will be going into the draft or not.
The term "franchise quarterback" is often thrown around far too often on unproven talents at the position, but if last night was any indicator it looks like Luck is the real deal.