One Big Thing We Learned From The Pro Bowl
Updated: January 31, 2011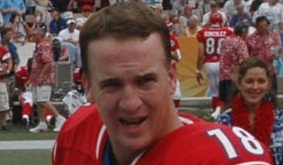 Yesterday's NFL All Star game was pretty much a non-story.  It is almost not even worth me taking the time to write this post about it.  At the end of the first half the NFC lead 42-7, there were maybe 3 legit tackles made all day, Jordan Gross made the biggest hit of the game (you read that correct), and I could have sworn I saw Browns C Alex Mack return a lateraled kickoff for a touchdown (you read that correct again).
It was that kind of game. But if you're a football fan, this is it until the Super Bowl and the draft of course!
But one MAJOR takeaway we can make from the game is…
I will say this over and over again.   To be a great team you need a great QB. There are no if's, and's, or but's about it!
Look at the rosters. You won't see any Carolina Panthers, Denver Broncos, Buffalo Bills, or San Francisco 49ers at the QB position.  They have the league's biggest QB problems and they are among the league's worst teams.  Those things are not independent of each other.
I'm not bashing Tim Tebow, Jimmy Clausen, Ryan Fitzpatrick, or Alex Smith here.  They all could eventually become good or great QBs later in their careers, but as of right now they aren't getting it done for their prospective teams.  The teams that have found good to great QBs are all among the teams we see year after year in the playoffs, showing growth year to year under the arm of their passers.
AFC Pro Bowl QBs
Philip Rivers– wonky footwork, weird passing motion, but he simply gets the job done. San Diego is always in the hunt although this year they took a hit with losing Shawne Merriman, LT, and Vincent Jackson (for most of the year) at the same time; they will be back.
Peyton Manning– need I explain? Greatest regular season QB ever.
Matt Cassel– I'll admit, he was the +1 with Jamaal Charles' ticket.
NFC Pro Bowl QBs
Mike Vick– the greatest pure athlete we've ever seen at the position, and a multiple time Pro Bowler with two different NFC teams.
Matt Ryan– had the best record in the league, currently has the best record at home of any QB.
Drew Brees– just won a title last year, looking to get his second next year.