Newton Leads Auburn to Title, NFL Draft Next?
Updated: January 12, 2011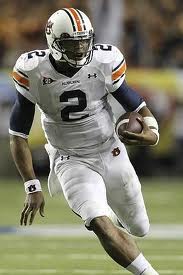 Is Auburn's Cam Newton on his way to the NFL?  While he has not made an announcement either way, it is widely assumed that he will forgo his eligibility and enter the draft after starting just one year at quarterback in the FBS. While there are people who believe that he can make it, and those that think he needs to stay in school it is pretty much agreed upon that Newton does have enough talent to make it in the NFL.
The only glaring question in his game is how dedicated will he be once he gets that big check "for the first time" (I kid, I kid). If you saw the Championship game it was clear that when under pressure Cam Newton would attempt throws without getting his feet under him.  Some mobile quarterbacks such as Ben Roethlisberger have made a living doing this, but Newton does not have that level of skill in throwing under pressure yet.  If he were to enter the draft his footwork is going to be the main knock on his game.
Maybe a coach that has quarterback roll-outs installed in his game plan will take a shot on developing that part of Newton's game.  Anyone else thinking Mike Shanahan? Hmmm…….
The deadline to enter the draft is this Saturday. We'll have answer on Newton's status by then.