Mel Kiper's 2011 Mock Draft v1.0
Updated: January 21, 2011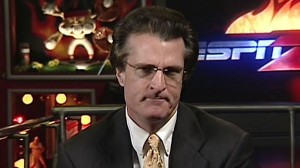 Unfortunately I cannot post Mel's complete draft as ESPN would not like that much, but I see they do have his top ten published and also aired them on television.  If you know where to look, finding the rest of his picks isn't difficult. By "know where to look" I mean ESPN.com's paid insider subscription (of course!)
Anyways with all the legal mumblo jumblo out the way here are Mel's picks.  My critiques will be below each pick.
1. Carolina Panthers: Nick Fairley, DT, Auburn Tigers
Carolina needs a DT sure, but I expect them to trade out and accumulate picks to stock their lines and put more weapons with Jimmy Clausen.
2. Denver Broncos: Patrick Peterson, CB, LSU
I do not think the Broncos will select a CB #2.  After 8 years of trying to win without a pass rush and great CB I think they finally address the defensive line and take Bowers or Robert Quinn.
3. Buffalo Bills: Marcell Dareus, DE, Alabama
I think they may fall in love with Cam Newton, the same way they fell in love with Tim Tebow.
4. Cincinnati Bengals: DaQuan Bowers, DE, Clemons
I can see this happening, good one Mel.
5. Arizona Cardinals: Blaine Gabbert, QB, Missouri
If they get Kyle Orton I think they go for Prince Amukamara.
Sidebar: I will be surprised if Prince Amukamara isn't drafted before Patrick Peterson.
6. Cleveland Browns: A.J. Green, WR, Georgia
Nice pick Mel.
7. San Francisco 49ers: Robert Quinn, DE, North Carolina
Downright scary pick.  Not because Quinn is that good. But who is Alex Smith going to lose his job to in 2011?
8. Tennessee Titans: Von Miller, OLB, Texas A&M
Great pick Mel. I think Von Miller goes in the top 10 as well. Fantastic pass rusher in the Clay Matthews mold.
9. Dallas Cowboys: Prince Amukamara, CB, Nebraska
Mel you a Cowboy fan?  Giving the best CB to America's team, lol.
10. Washington Redskins: Cam Newton, QB, Auburn
It's guaranteed Shanny falls in love with Jake Locker or Cam Newton, and we all quietly laugh as he overdrafts one.