John Elway "Doesn't Think Tim Tebow is a Very Good Quarterback Right Now"
Breaking sports news video. MLB, NFL, NBA, NHL highlights and more.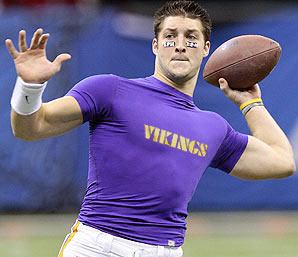 In the video that can be seen above this post, Peter King reports that new Broncos Football Czar, John Elway "Doesn't think Tim Tebow is a very good quarterback right now." This was broadcast live on NBC's pregame show before the Saints-Seahawks playoff game. A lot of Broncos fans have lost their minds over what this could or would mean for their beloved quarterback.
Peter King speculated that Josh McDaniels could look to reacquire Tebow at a later date with his new team, where ever that happens to be.
For one, no player can be traded until the CBA is renegotiated.  So the Broncos have time to figure out who is going to be available who who isn't.  Also the Broncos don't even have a coaching staff.  So who knows if Tebow will be traded, cut, retained, benched, or asked to play another position.
Elway tweeted the following in an effort to cool rumors that he was actively looking to shop Tim Tebow:
To clarify my thoughts on Tim Tebow… I think he's a very good football player, and if anyone can turn themselves into a great QB, Tim can.

Myself and our entire organization think very highly of him. We are pleased with his first year as a Bronco.

Any speculation that the Denver Broncos are considering moving Tim is completely false.
Are the Broncos covering their tracks? Did Peter King say too much too soon? Is this much ado about nothing?