Jay Cutler Quit. (Response to Skip Bayless)
Updated: January 26, 2011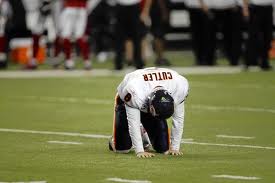 I don't want to hear the excuses Bears fans, Jay Cutler apologists, Skip Bayless, etc.  Your golden child Jay Cutler quit when all the marbles was on the line in the NFC Championship.
I was just reading Skip Bayless' twitter page and that is what inspired me to write this post. How can you defend Jay Cutler? He quit. He is a quitter. And Sunday wasn't the first time he quit.
Skip Bayless quickly tweeted "Favre often ripped for playing when shouldn't have, killing team's chances. Cutler tried to go, misfired. Drs. said bad idea. Put team 1st."
First and foremost, stop comparing Brett Favre's superhuman pain tolerance to Jay Cutler "putting his team first."  Did Jay REALLY believe TODD COLLINS was going to give his team the best chance to win? Lovie didn't even believe that and pulled Collins after just FOUR PASS ATTEMPTS.
Let's see what else Skip had to say on this.
"Cutler's problem? He's not sideline actor, grimacing, writhing, phony rah-rah. TV perception is reality. Haters say, "See, not hurt!"
Want to know how everyone knows Jay could have finished the game? Jay still had his helmet. Teams notoriously will steal a player's helmet if they feel like he is going to seriously hurt himself if he re-enters the game.  Jay was left with his helmet and was free to return at any moment he choose.
"JCutler is as tough physically AND MENTALLY as any NFL QB. No QB has taken more punishment in college & pros. Missed 1 start in 114!"
I agree with this. Jay Cutler typically doesn't get hurt. But when he does in the BIGGEST GAME OF HIS CAREER…. he can't suck it up and give his team a shot to win it? Let's be serious again. No one believes in Todd Collins.
"Because JCutler doesn't cater to media or fans, he's now 2nd most hated in NFL to Favre. Billions of haters leaping to say HE QUIT!"
Don't even try that ad-homenim argument.  Because Jay Cutler isn't friendly to the media, he all of sudden isn't a quitter? Makes no sense.  Those qualities are 100% independent of one another. Either people like you or they dont.  Most don't like Jay Cutler.  Either Cutler quit or he didn't. He quit. Those events have no bearing on one another!
But Jay Cutler didn't quit just on Sunday.  He quit on the Broncos in 2009 as well. Before he could even sit down and get things straight with Pat Bowlen and Josh McDaniels, Jay elected to put his house on the market and let Bus Cook do his billing.  He never gave McDaniels or the new staff a chance after they admitted they tried to trade him, but elected not to.  Jay simply QUIT on the organization after McDaniels failed to tell him he was untradable.
Jay Cutler was a quitter in Denver, and now he is a quitter in Chicago as well.  The book on him is being written and it isn't a feel good story.  It's the story of a young man who is a habitual quitter, with a bad attitude to boot.