Eagles to Franchise Vick, Trade Kolb
Updated: January 31, 2011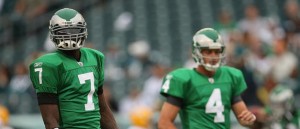 News coming out of Philadelphia is that the Eagles have finally come to a resolution regarding their QB situation.  Michael Vick will be kept as the franchise player, and current backup Kevin Kolb will be available on the trade market.  The Eagles have up to this point not shown an active interest in trading Kobb, but with Vick having the season of his career all things look to be moving in the favor of Mr. Vick.
For Kolb, he instantly becomes one of the better options in one of the softest QB markets in a few off-seasons.  Kolb, Donovan McNabb, Vince Young, and possibly Kyle Orton (please just keep him Fox) will all be available for trade or be released from their current teams.  Out of the teams in the marke I think we can expect to see Kolb end up one of the following places:
Buffalo

– no Fitzpatrick, we don't really believe in you.

Carolina

– puts Jimmy Clausen back on the bench, and gets a more "proven" option in there for Rivera.

Miami

– see: Buffalo.

Oakland

– even though they went 8-8, their QB spot was a mystery for most of the year.  Jason Campbell is super inconsistent.

Washington, D.C.

– they wouldn't trade in the division two straight years in a row…. naaaaah…….