Colin Kaepernick Getting First Round Buzz at Senior Bowl?
Updated: January 28, 2011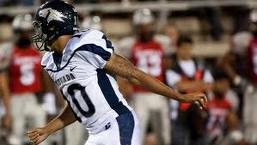 Word coming from the Senior Bowl is that Colin Kaepernick has been impressive in Mobile. FOX Sports' Adam Caplan believes that Kaepernick even  has a chance to be selected in the first round. This is the first time that I've heard of such chatter, as most of the draft experts I follow have him as a mid round project player. Maybe he throws a pretty ball, but he still has wonky mechanics and comes from a spread offense.
According to Caplan, Kaepernick was "clearly the best quarterback out of the six (on both Senior Bowl squads) and it's not even close." Kaepernick is picking up steam as a mid to late first-rounder in a rise similar to Jay Cutler's in 2006 and perhaps Josh Freeman's in 2009. Said NFL Network's Mike Mayock after seeing Kaepernick throw, "It's like watching Nolan Ryan."
Nolan Ryan? I'd rather get excited about a QB compared to Matt Ryan.