Carolina is Screwed: Andrew Luck to Stay in School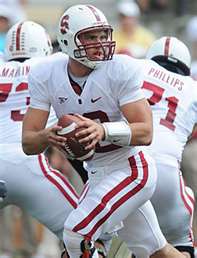 Note: If you are visiting from BlackSportsOnline or Twitter please take a moment to subscribe to the RSS feed and check out our NFL Draft community.
The Carolina Panthers have to be scrambling right about now.  Andrew Luck, the consensus #1 player on everyone's draft board has decided that he will not be entering the NFL Draft in 2011.  This is huge news to say the least.
A lot of people have speculated that if a rookie cap is done, Luck could stand to lose as much as $60 million dollars by staying in college.  This reminds many of the Matt Leinart situation, where Matt was going to be the #1 selection but instead decided to stay in school and fell to #11 in the following year.
Luck will go back to a Stanford team that will probably lose it's coach in the next few days.  However, they stand to start the season with a top 5 ranking and will be in the National Championship picture if they run the table.  There's a lot of things money can buy, but memories of winning a championship with your college buddies are one of the things money can't buy.
On the Panthers side of the deal, the team has to be worrying about what to do with that elephant right now.  The #1 overall selection is going to be hard to unload without a clear cut top prospect on the top of the board.  Carolina may be forced to select AJ Green since they do have Jimmy Clausen developing.  Then again they are still looking to replace Julius Peppers and DaQuan Bowers could be the move there.
We will see what happens, but one things looks certain.  Carolina has a lot of decisions to make between now and the draft!