Newton's Campaign to Go #1 in the Draft Starts Tonight
Updated: January 11, 2011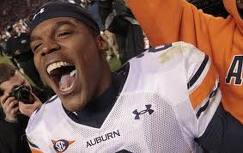 As we end the 2010-2011 college football season all eyes will be on one man: Cam Newton.  The man who has been the subject of countless articles, television broadcasts, bar chats, and forum posts.  Regardless of what you think about him personally, and what you think did or "didn't" happen at Florida and Auburn you cannot deny his talent.
I have said it before and I will continue to say it. Cam Newton is the biggest "boom or bust" prospect the NFL Draft has seen in years.  He is up there with Jamarcus Russell in terms of risk.  If you remember Russell too had a great season in the SEC, and seemingly shot to the top of the board on potential alone.
Cam Newton has that kind of make or break it potential.  He is the type of player that is either going to revolutionize the position, like a Mike Vick, or he is going to wash out of the league in three years.  I just don't see there being a middle ground with him.
For one, you have to factor in the off the field stuff.  You never know how someone is going to react once they get the level of privilege and wealth of a NFL Quarterback.  Maybe Cam has learned from his mistakes. Maybe he hasn't.  There is only one way to truly know and that is the test of time.  I personally believe he will be like Reggie Bush and keep a relatively low profile as a pro.
Talent wise Cam Newton is like nothing opposing coaches have ever seen before.  At 6'6 250, he is the same size as some defensive ends in the league.  With his ability to run the ball many have compared him to a Tim Tebow or Vince Young, but that is incorrect.  Cam Netwon's throwing motion is not anywhere near as quirky as those guys.  The major question is can Cam make the reads and rely on his arm more than his legs vs. the pros?
The story of Cam Newton begins tonight.  If he marches Auburn all over Oregon for a dramatic championship win you'll start hearing the discussions about him going number one in the draft.  Jerry Richardson was totally prepared to draft Andrew Luck just a few days ago.  Will Cam Newton do enough to justify filling that void?  The answer to that question and more awaits.