Blaine Gabbert, DaQuan Bowers Go Pro
Note: If you are visiting from BlackSportsOnline or Twitter please take a moment to subscribe to the RSS feed and check out our NFL Draft community.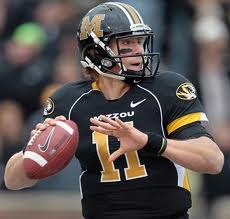 And here come the underclassmen!
Missouri QB Blaine Gabbert and Clemson's monster DE DaQuan Bowers have both announced their intentions to enter the NFL Draft.  Both players seemingly will be high first round picks.
Gabbert could possibly be a top ten selection if he is the first quarterback taken.  Buffalo, Arizona, and Carolina could all be interested in acquiring a signal caller.
Bowers is a definite top three selection with the season he's had.  Some people in draft circles are concerned he may be a "one year wonder" but the potential is definitely there.
Either way, both players should hear their names called early by the commissioner this year.