USC Loses 30 Scholarships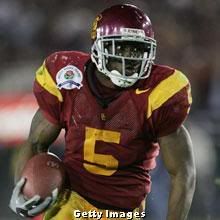 The fall of Troy.
After the internal NCAA investigation determined that USC broke the rules regarding student athletes, USC got hit with a two year bowl ban and lost 30 scholarships. The primary reason behind the investigations was the eligibility of Reggie Bush. During Bush's time at USC he received "improper benefits" which included cash, a car, and other things.
All I can say is that karma is coming back to bite Lane Kiffin. He should have stayed at Tennessee. Oh well. Good luck trying to slide your way into another head coaching job next year.